The new drag & drop functionality in SharePoint 2013 looks quite cool and seems to bring ease of use to everyone. Unfortunately this is again a feature that was not thought out:
Moving around documents with the mouse works fine as long as you stay within the site. I tried this within an Assets Library – and everything was as expected except the fact that I could move an image but not a video!
So what is the difference between a .jpg file and .mp4? In SharePoint 2013 there's quite a big one. As you might have noticed, SharePoint 2013 allows you to set a different thumbnail image for your video. And of course this file has to be saved somewhere. That's why they implemented the video as something similar to the Document Set that we all know from 2010.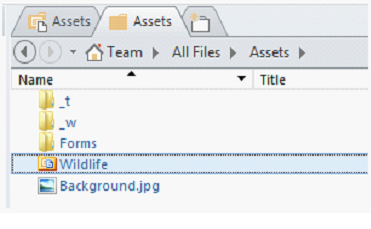 This screenshot shows the Assets library with one image and one video. And as you can see the Video looks like a folder. I always call the Document Set in 2010 "Folder++" – it's now the same for videos.

Now – to close the circle – why cant't I move a video using drag & drop? Because it's as folder – and folders cannot be moved with drag & drop (as well as list items) in SharePoint 2013.
If drag & drop doesn't work at all in your environment then you should check the prerequisites:
Internet Explorer 10
Internet Explorer 9 with Office 2013 Installed
Internet Explorer 8 with Office 2013 Installed
FireFox latest version
Chrome latest version
Markus